Does your home have atmosphere?
Laminate Flooring
Laminate floors give you the opportunity to have a floor that looks like real hardwood, stands up to scratches and dents, and can cost significantly less. At Atmosphere Flooring, we carry a large selection of laminate floors available in various styles.
Laminate flooring is basically:
Aluminum Oxide
Protecting the picture, or graphic
Laminated onto an HDF core
Laminated onto a back layer
The back layer provides additional support and stability.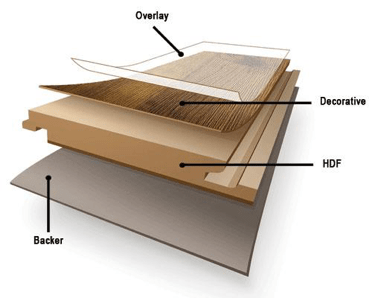 Laminate flooring is commonly available in 7 mm, 8 mm, 10 mm and 12 mm thicknesses. A thicker laminate does not necessarily mean that it is stronger or more durable than a thinner laminate; however, a thicker laminate is more rigid than its thinner counterpart and can reduce noise.
AC Rating
The AC Rating refers to the wearability and durability of your laminate.  A higher AC number means more durability.
AC 1: Designed for home use with little foot traffic, like bedrooms
AC 2: Designed for home use with medium foot traffic
AC 3: Designed for home use in all foot traffic areas, including high foot traffic areas, like the foyer or kitchen
AC 4: Designed for home use in all traffic areas and can meet some commercial standards if warranted
AC 5: Designed to withstand heavy commercial traffic.
Underlayment
Laminate floors require an underlayment.  These can range from standard cellular foam to an underlayment that provides additional insulation or sound reduction.  There are also laminates that come with an underlayment attached to the underside of the planks.
Colour and Texture
Laminates mimic the appearance of a hardwood floor, although there are also some that are made to look like tile flooring or stone.  They are available in a multitude of colours and styles.  There are also a number of textures available, as seen below:
Embossed – an over-all texture that does not necessarily follow the pattern of the picture
Embossed in Register – this gives the natural look of hardwood flooring, adding texture that matches the surface design of the plank.
Handscraped – not hand scraped in actuality, it is made to give the appearance of hand scraped planks during the manufacturing process.
High Gloss – a smooth, mirror finish.
With so many choices available, it can be daunting to find just what you're looking for.  That's where our flooring professionals at Atmosphere Flooring come in.  Bring in your paint chips and fabric swatches if you have them, and we can help you coordinate your flooring to your existing furnishings or your future new home.
If you have more questions about laminate flooring, please visit us in store or give us a call at 604-795-5577.
---