Does your home have atmosphere?
Hardwood Floors and Your Lifestyle
Hardwood floors can add a naturally beautiful element to any space. Choosing the appropriate species is as important as getting the right colour and style. Hardwood floors come with their own characteristics. The first consideration should be whether you should have a solid hardwood or an engineered hardwood.
Solid Hardwood
Installation – glue or staple, above grade only. Solid hardwoods consist of planks of wood which have been sanded, stained and protected. Solid hardwood floors are more sensitive to heat and humidity levels, which can lead to gapping or cupping. The maximum width of a solid hardwood plank is 5"
Engineered Hardwood
Installation – Glue, Staple or Float. Engineered hardwoods are constructed from 3 to 5 layers of plywood applied cross-wise, or an HDF core. Both have a real hardwood veneer. Engineered hardwoods are less sensitive to heat and humidity levels. The layers take the stress of heat, humidity and shifting buildings. Engineered hardwood floors can be installed below grade, unlike solid hardwood floors. Of course they can also be installed on grade or above grade as well. Engineered hardwood planks are available in widths up to 7.5".
What is the Janka Scale, and how important is it to your hardwood choice?
The Janka number is found by pushing a steel ball into a 2″ x 2″ x 6″ wood plank. The number of pounds per square inch (PSI) needed to push the steel ball into the wood is the Janka rating number. The Janka number indicates the durability and hardness of your floor. The higher the number, the more durable and hardy the wood species.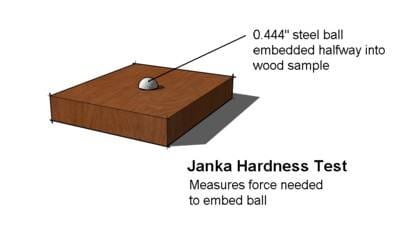 To ensure consistent results, wood grains are taken into consideration when testing. Since vertical grains handle differently, they are tested but not often used in the Janka rating system.
The Janka Scale is not the only criteria to consider when choosing your hardwood floor.  The wood tested is unfinished, with no stain or protective coatings.  These factors can increase the durability of your hardwood floor.
Due to the construction of engineered hardwood, it does not have a Janka rating. Only solid hardwood floors can be tested.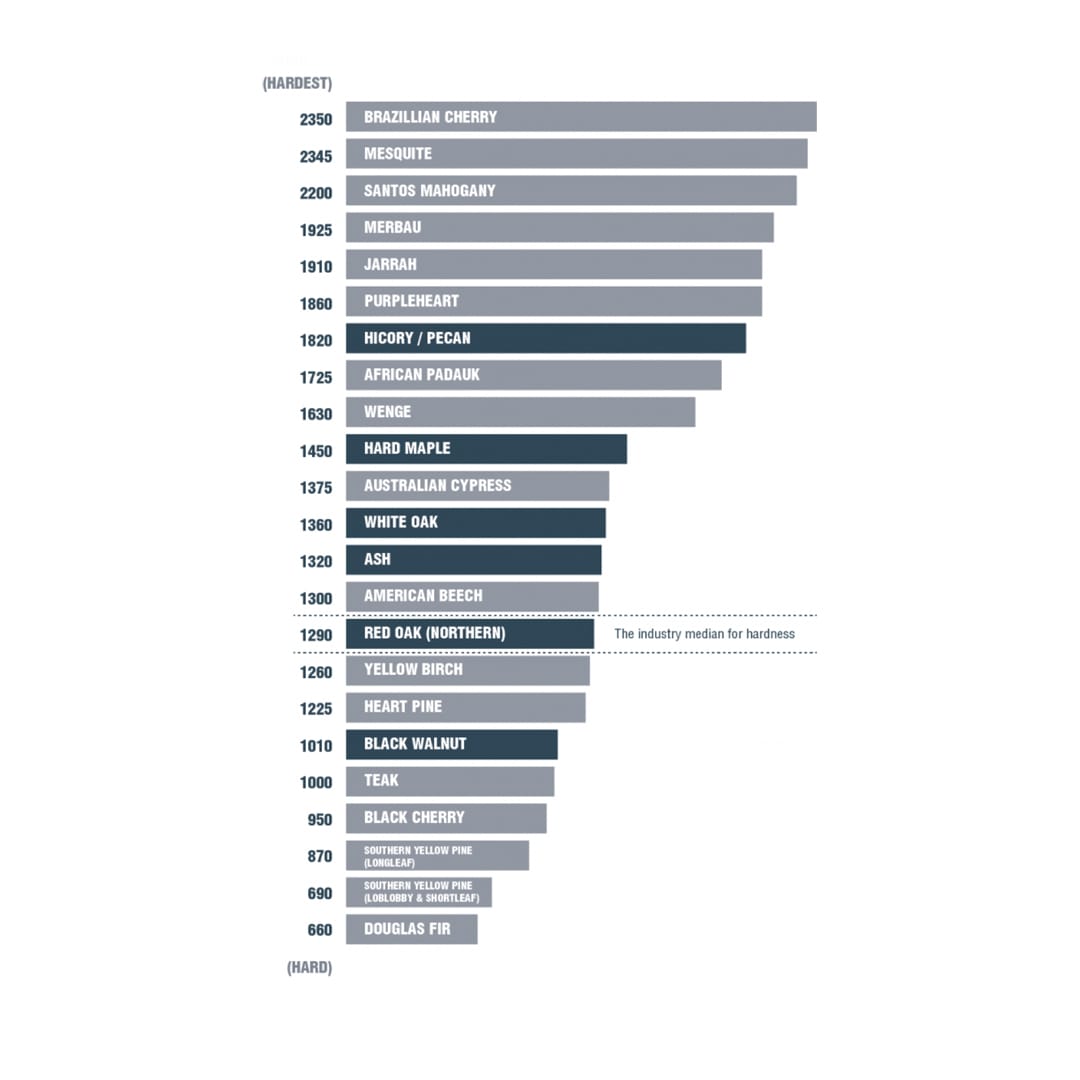 Handscraped, smooth, polished, oiled, wire brushed, which is best for your lifestyle?
The possibilities are endless. Which one best suits your lifestyle? Hardwood floors will scratch. It's unavoidable, and the nature of a wood floor. When choosing your hardwood floor, it is best to keep in mind your lifestyle, and how that will impact the wear of your floor. If you have pets, small children, or a lot of foot traffic, it is recommended that you not choose a glossy flat floor. A glossy flat floor will show wear and scratches a lot sooner than, for example, a wire brushed floor. Handscraped, distressed, or wire brushed floors lend themselves easily to a more casual environment.  When a distressed floor is scratched or dented, it just becomes part of the character of the wood.
Our flooring professionals at Atmosphere Flooring are there to guide you in your options and choices, when selecting your new hardwood floor.
If you would like to learn more about hardwood floors or the Janka Hardness Test, please contact Atmosphere Flooring at 604-795-5577.
---