Does your home have atmosphere?
Area Rugs
So, you've brought gorgeous new flooring into your home. Now all you need is a great way to add warmth and softness underfoot, group your furniture into a comfortable arrangement, pull your colours together, and connect the elements of a room. A new area rug will do just that for you.
Carpet comes in a huge variety of styles, colours and patterns. Once the choice has been made, your carpet can then be sent out for binding. Binding choices are varied, everything from standard polyester binding, to wide leather bands, to serging.
What are the edging choices for area rugs?
There are a number of ways to finish the edge of your area rug. The style you choose depends on budget and the look you want to achieve. Here are a few that may help you in choosing:
Area rug serging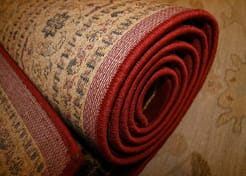 According to the Merriam-Webster Dictionary, serging is defined as "the process of overcasting the raw edges of a piece of fabric (as a carpet) to prevent raveling". Thread is sewn through the rug, wrapping the edges. The thread chosen can be an accent or blend into the overall colour of the rug.
Area rug binding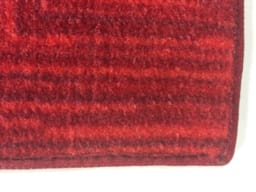 Binding involves using a tape to wrap the edges of the rug, thus preventing them from fraying. There are a number of different types of tape. The most commonly used are polyester or cotton.
Area rug borders

Borders are similar to binding, in that they are a fabric or tape that is used to wrap the edges of the rug in a wider band.  There are a number of materials available, which include cotton, polyester and leather. Most often the colour choice is one that accents or contrasts with the rug.
You can also combine two different carpets, thus creating a border in another pattern or solid, finished with serging or a binding.
Area rug fringe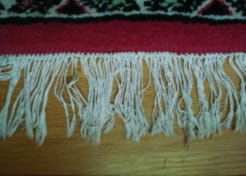 Fringe is a beautiful way to finish the ends of a more traditional style of area rug. The fringe can come in a variety of thicknesses, colours and yarns.
Does the size of an area rug matter?
Generally speaking, pre-made area rugs come in standard sizes, i.e. 4×6, 5×7, 8×10, 10×13, etc. Creating your custom area rug allows you the flexibility to change the size to fit an awkward or unusual space and gives you an almost unlimited number of choices. A rule of thumb is that all of your seating should have at least the front two feet touching the area rug. You don't want to have your area rug floating in the middle of the room, as that will disconnect it visually from the rest of the room. Chairs and sofas should be facing each other unless it's a theatre room, with the area rug connecting them and creating a cohesive grouping.
Area rugs don't have to be confined to living rooms, family rooms or bedrooms. You can also make a beautiful runner for your hall, or an entrance mat for in front of your door. Atmosphere Flooring has a large selection of quality remnants that are perfect for creating your own area rug customized to your space, and also reducing the cost.
Your flooring professional at Atmosphere Flooring will be able to assist you in selecting a rug that fits your taste and lifestyle. To learn more about area rugs, please contact Atmosphere Flooring today at 604-795-5577 .
---